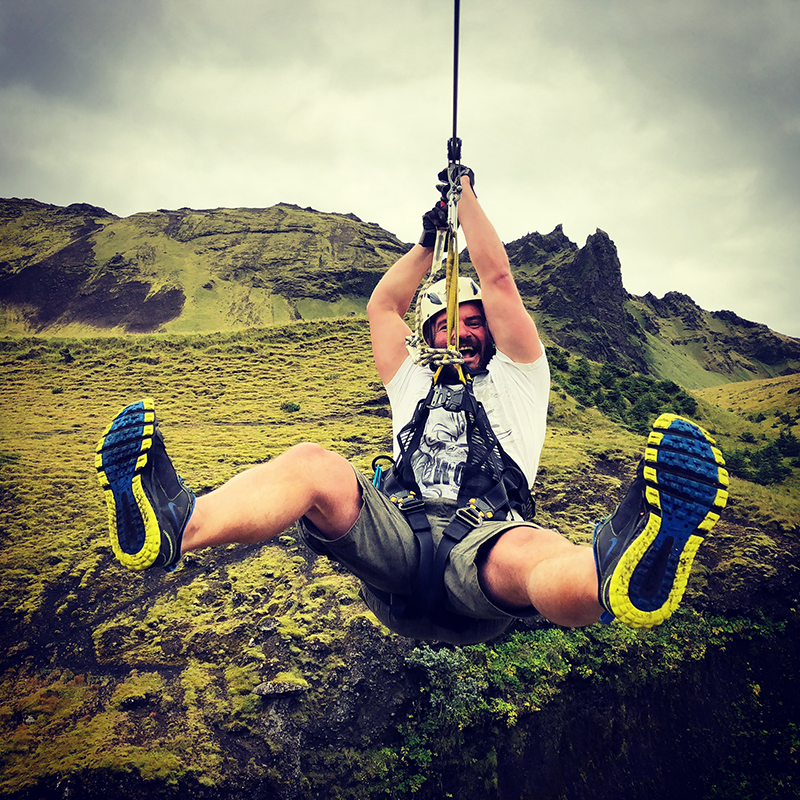 A zipline ride is a great adventure for all those who love the thrill of doing something challenging but at the same time very safe. The tour includes a hike through a breathtaking river canyon and two zipline rides, 240 and 140 meters long. The scenery below you is breathtaking and you will have a birds-eye view of it as you whiz down the zip-line.
Price: ISK 11.900kr. 
Price children: ISK 7.900kr.
zipline adventure
About this experience

Availability
We have daily departures all year long.

Duration
The whole tour takes 1,5 – 2 hours. Depending on the size and shape of the group along with weather conditions.

Included
All safety equipment, ride to the starting point from the meeting point, certificated guided hike and two ziplines.

You will need
Hiking shoes and warm, windproof clothes – dress according to weather Gloves and a thin hat to fit under your helmet If you have long hair it's recommended to braid it or tie it in a low bun.

Meeting Point
Víkurbraut 5, Vík í Mýrdal, South Iceland (check map). Please arrive 10-15 minutes prior to your booking time.

Weather
Sometimes we need to change departure times slightly due to the weather. Please check your email before your booked time and leave us a phone number so we can call or text you in case we have to contact you with changes in schedule.
The Beginning
Our Zipline is situated right next to the village in Vík in South Iceland surrounded by beautiful hills and valleys. It is not directly accessible by vehicle so after we pick you up at our base we drive for about 3-5 minutes, we hike for another 5 minutes at a moderate pace to reach the take-off platform for the first zip, named Big Rush. Here the thrilling adventure takes off.
The Zipline Adventure
Our second zip,  The Gentle Giant is just around the corner from the first. We will give you detailed safety instructions and make sure you are comfortable with what to do during the ride so you will enjoy the ride to the fullest and stay safe. Once you're ready then you wait your turn and next thing you know, you are zipping above the canyon, heart pumping with excitement and having the best birds-eye view of the area that you can't imagine beforehand.
Then we take a short hike through the amazing rock formation of Grafargil (Grave Canyon) to the next activity, named Leap of Faith. Then follows the last zip-line that we call Little Rush, it will take you over a stunning waterfall, named Hundafoss. 
The End
We might offer you extra fun in the end, depending on weather conditions before the car picks us up for the ride back to Vík.
Requirements & preparations
Check your age
You must be age 8 or older. A legal guardian must acompany or sign to allow kids under 18 to zip.
Break out the scale
Participents must weigh between 30 – 120 kg. (65-260 lbs.)
PROTECT YOUR FEET
It's best to wear waterproof hiking boots or trail running shoes with a fully-enclosed toe and heel and a good sole.
take a breather
You must be able to hike ca. 3 km. (or 1-2 miles) at elevation and over uneven surface.
PROTECT YOUR FEET
It's best to wear waterproof hiking boots or trail running shoes with a fully-enclosed toe and heel and a good sole.
Pregnant ladies
Sorry, it's not safe to zipline while you're pregnant.
ARRIVE EARLY
Check in 30 minutes prior to your tour time. Please remember not to be late! Come ready to get outside your comfort zone and have a blast!
DRESS APPROPRIATELY
Dress according to weather, Iceland can often get cold and wet so wind and rainproof clothes are usually a good idea.
UNTANGLE
Tie your hair up (either braid it or tie it in a low bun) so it won't get tangled.
COME RAIN OR SHINE
Tours operate rain or shine. If we do cancel, we'll make every effort to contact you to reschedule or refund the tour.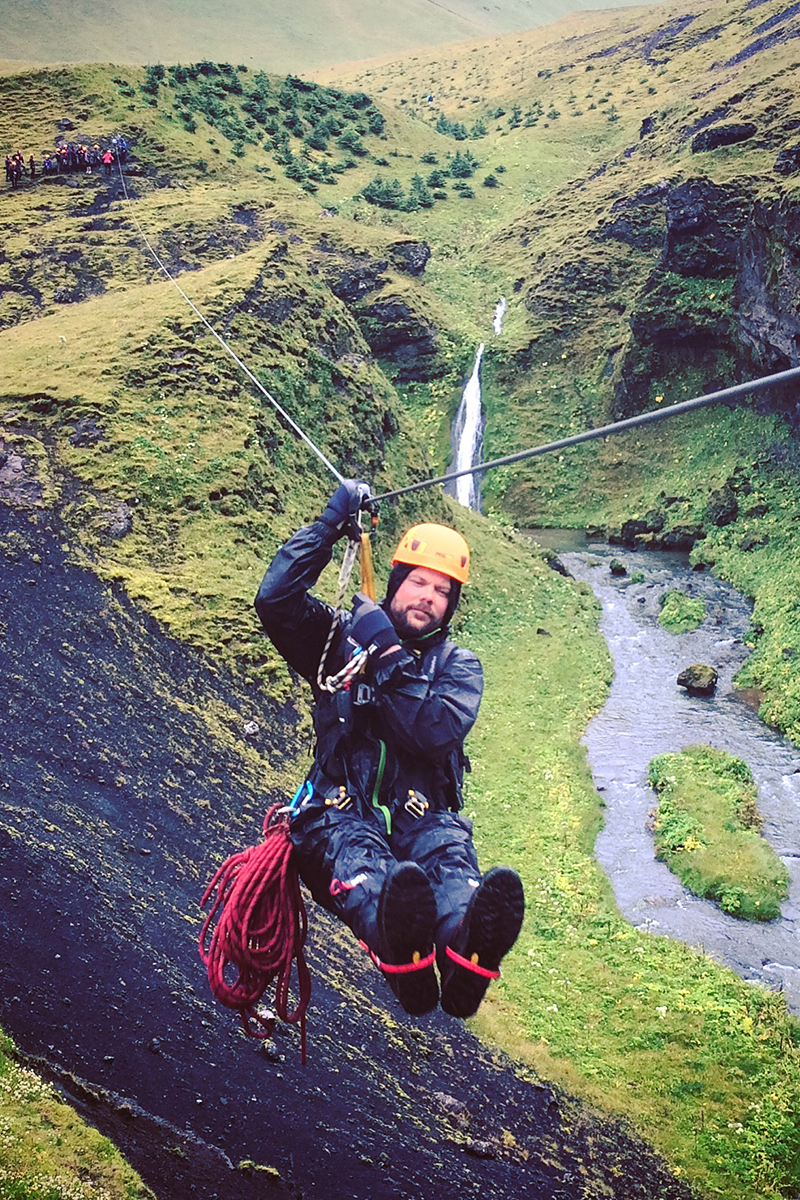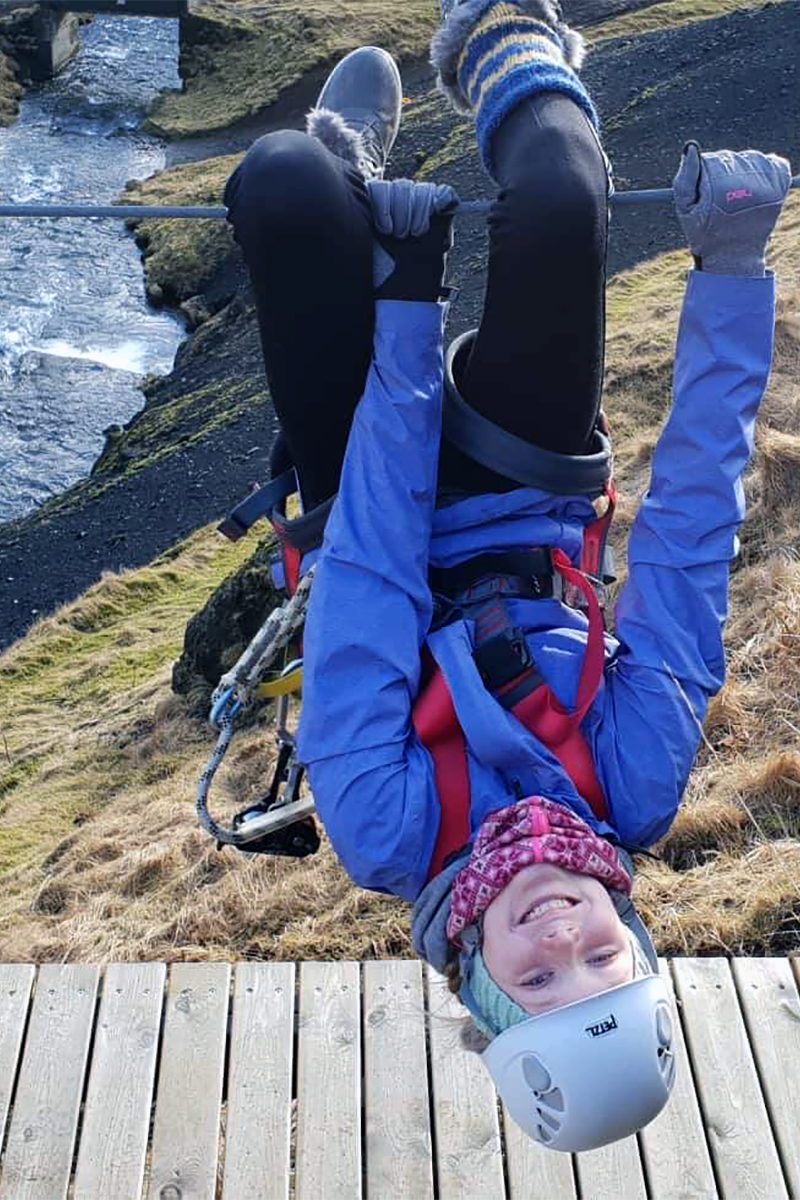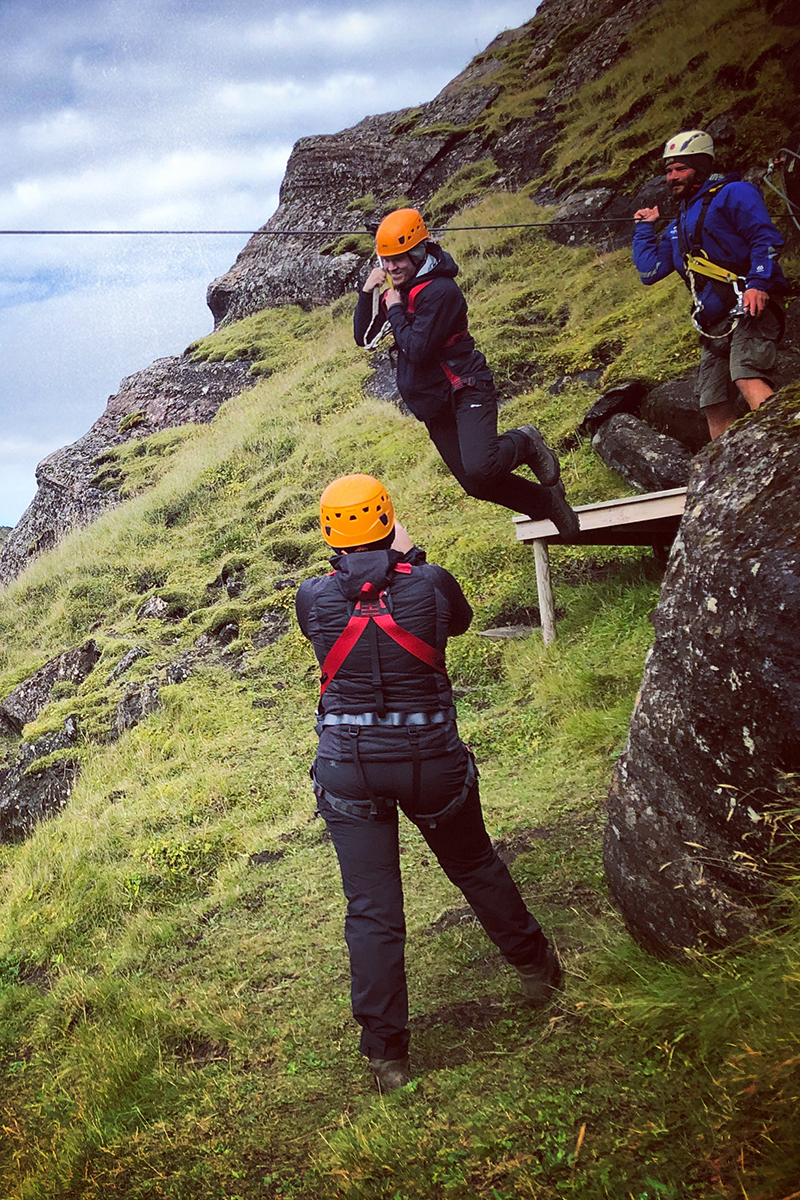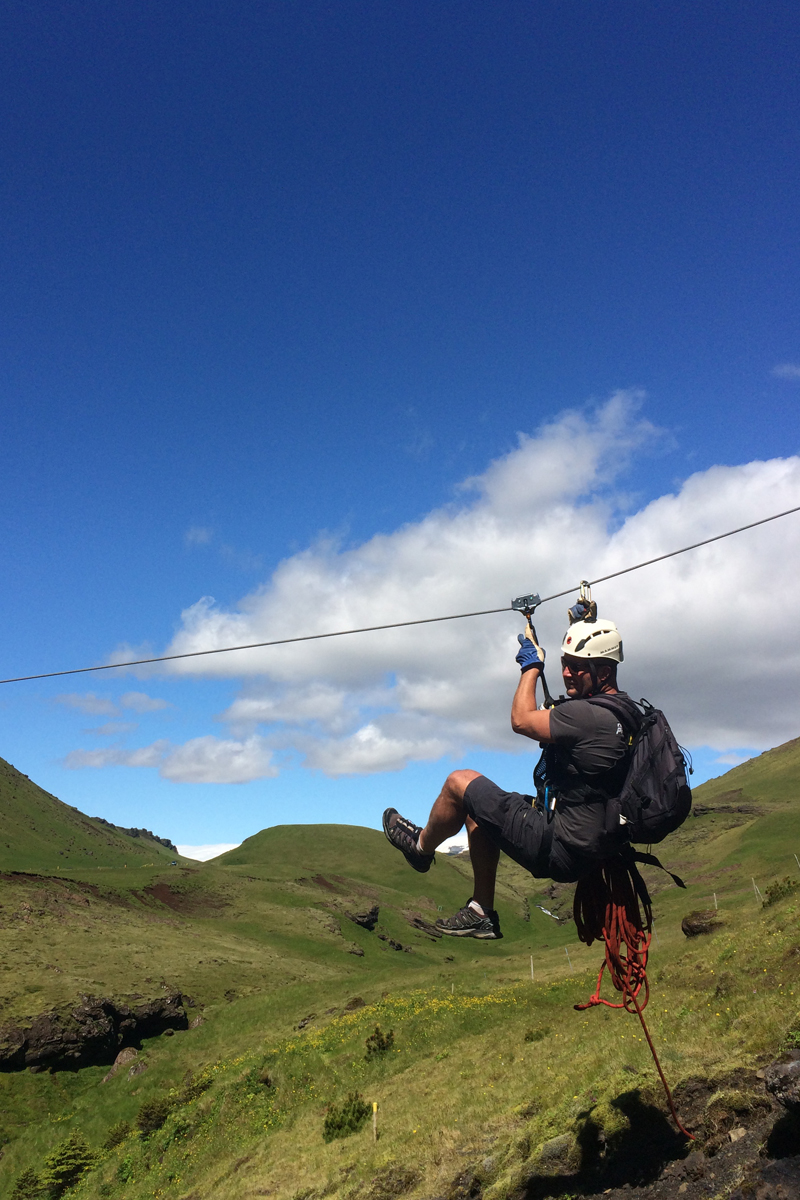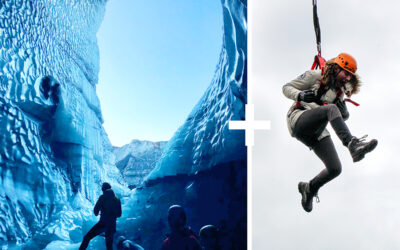 Two amazing experiences in Vík, Iceland. Zipline and Katla Ice Cave tour.
read more
Have any questions or concerns about our ziplines, weight or age restrictions or something else? Feel free to drop us a line if  anything comes to mind. If it's close to your zipline adventure a phonecall might be a better option. Tel:
+354 698 8890
Do you want to get to know our ziplines a little better? We'll give you a little info about our ziplines but we can never put this experience in writing. 
Leap of Faith
We like to keep this part as a little mistery. Silence is golden.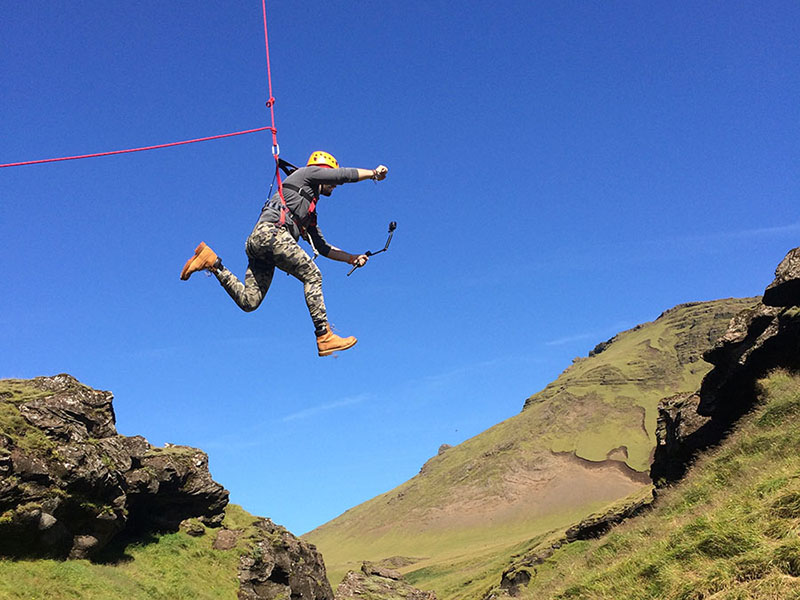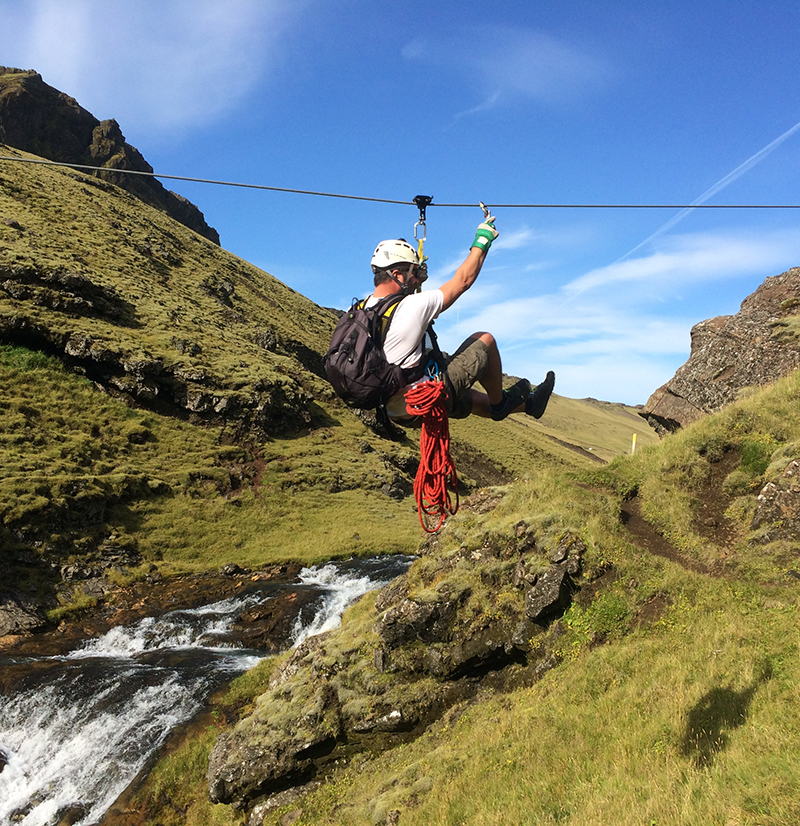 The gentle Giant
Our first zipline is 240 meters long. From the starting point to the first zipline platform is around 10 minute hike.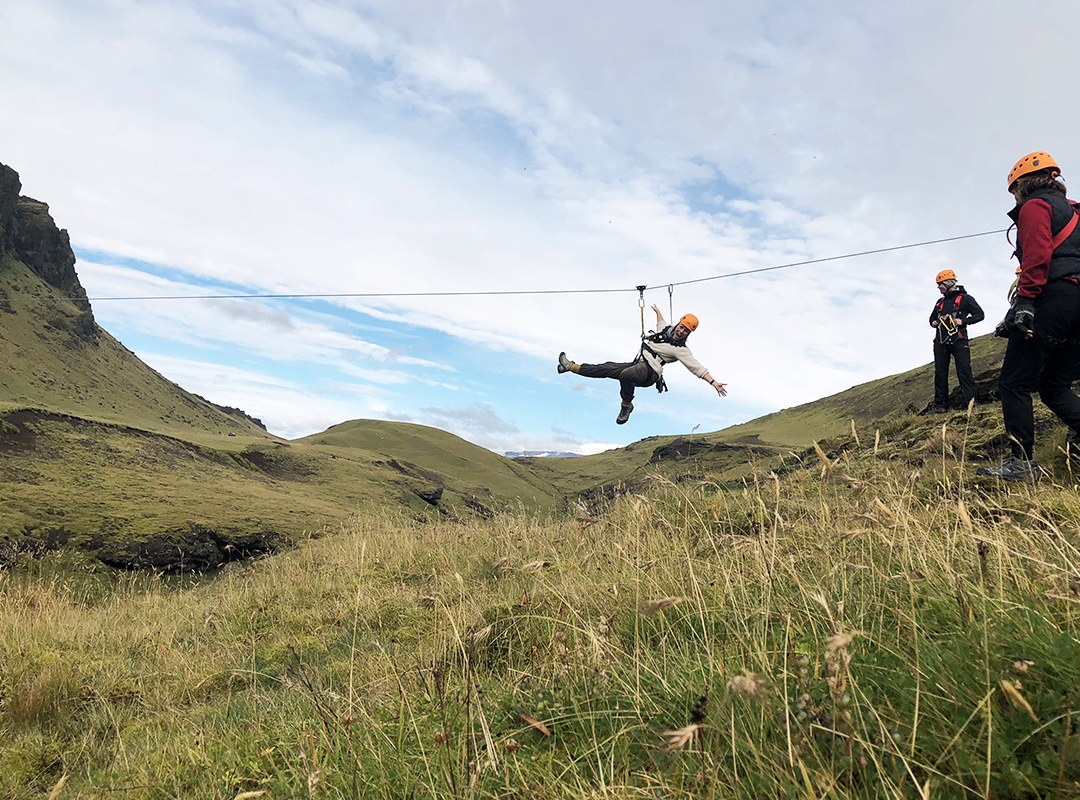 Little Rush
Steeper and faster caple than the first zipline, Little Rush spans 140 meters to the end platform. Now the only thing to do is hike back to base.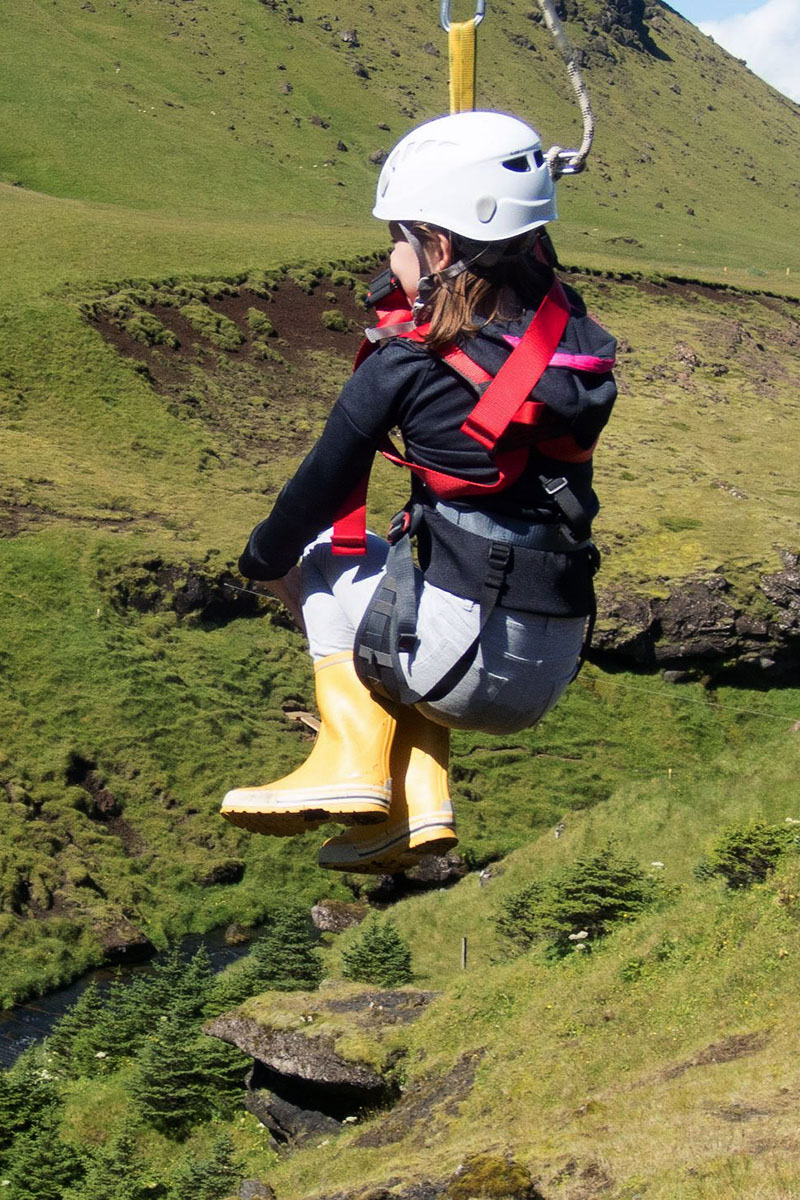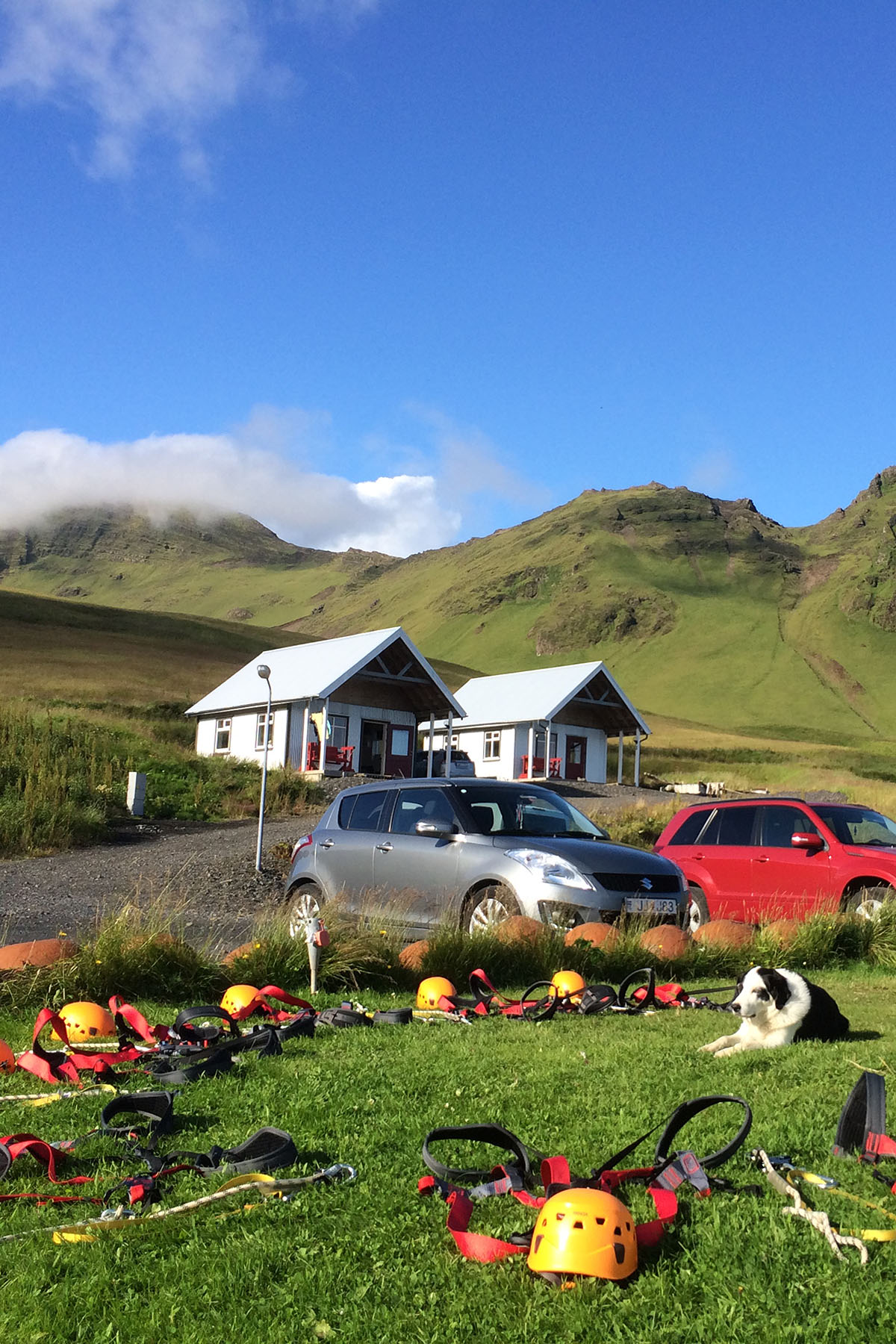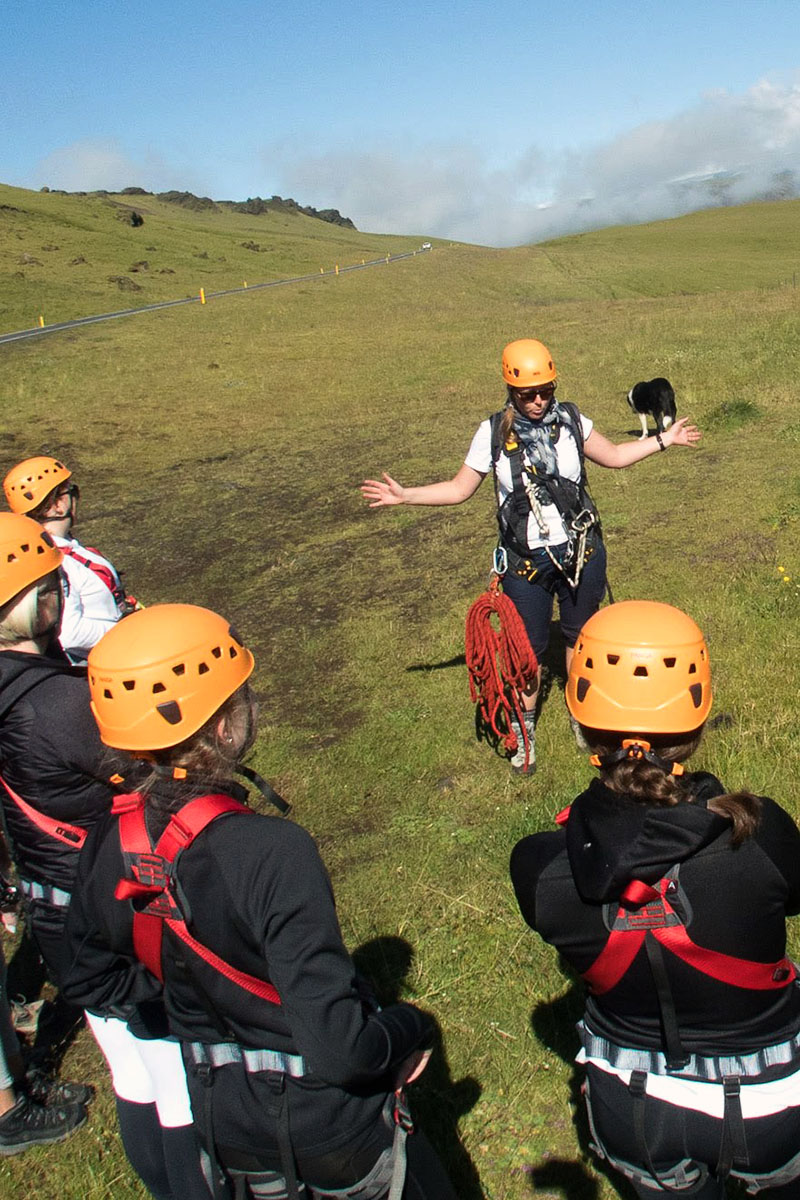 Zipline Adventure
Book here
*Children must be accompanied by an adult
ISK 14.900
Children: ISK 7.500
NEED SOMETHING MORE CUSTOM? YOU DREAM IT, WE'LL MAKE IT HAPPEN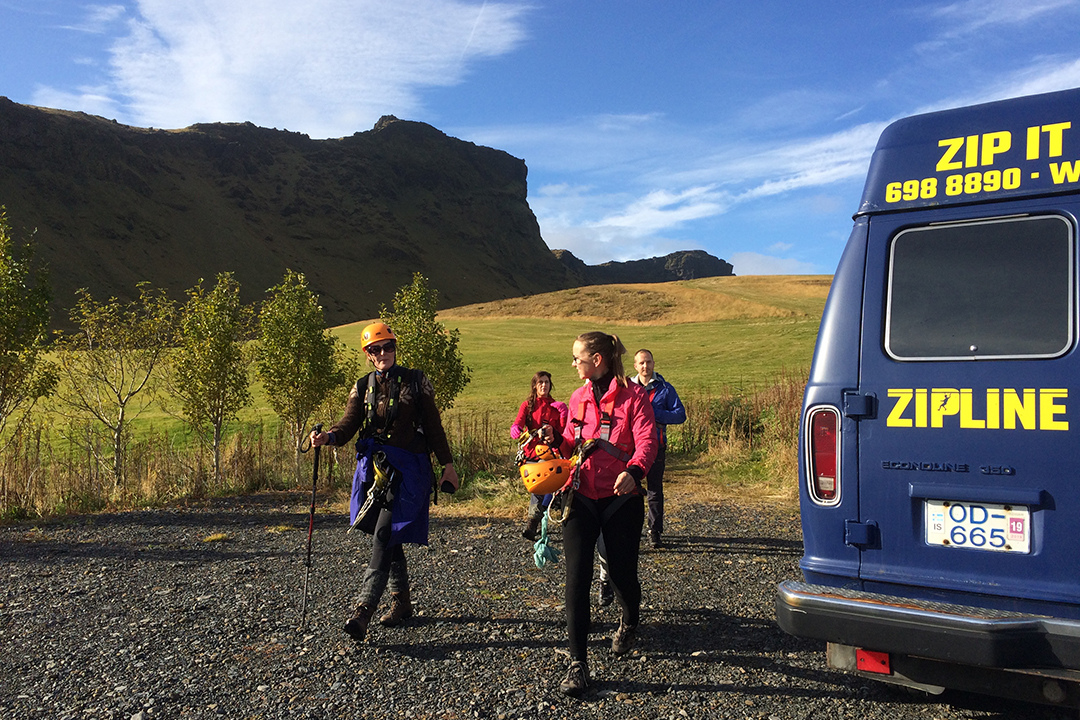 Do you have a big group or just a small group wanting privacy. Want to entertain your staff or add on to the activities in Vík. Whatever it is we can cuztomize it to your needs. Get in touch.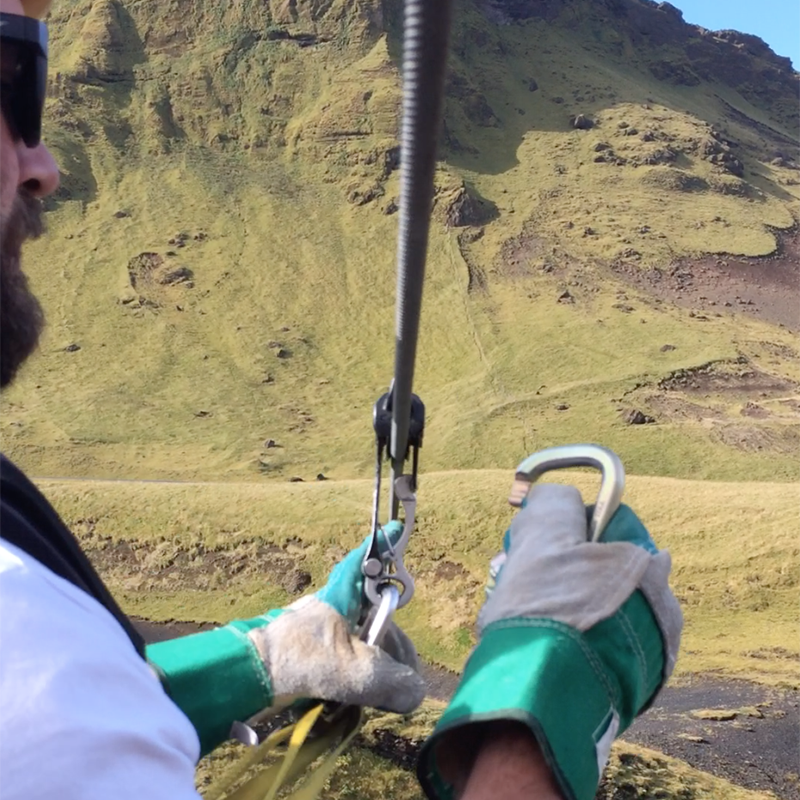 Remamber your hiking boots! You will be travelling in Iceland, our terrain is mostly untouched and we would like to keep it that way. That's why we don't make huge walking paths in the landscape but follow narrow and uneven sheep trails along our trails. Hiking boots help you when the route is wet and slippery and support your ankles if you are unused to walking on uneven surface.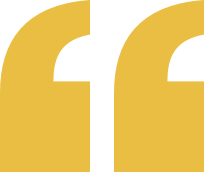 i had booked a ticket for the zipline. luckily I was the only participant.
the 4 ziplines are all different and therefore equally challenging. the parts of the zipline and... read more hiking is really a very nice area.
pieces are good and easy to walk in between. make sure you have good walking shoes.

i heard they also do pagarlide in the summer. I will definitely be back for the zipline and paraglide!
I definitely recommend this activity.

femke22


December 4, 2022